Specialists in holistic medicine
Family doctors for parents & children
PRACTICE FOR
HOLISTIC
FAMILY
MEDICINE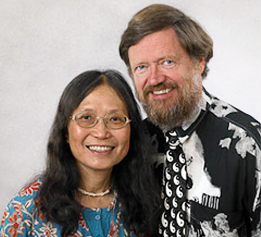 Hearty Welcome!
We are both consultants (in Internal Medicine and Paediatrics) with many years' professional experience. In our Practice for Holistic Family Medicine we combine our expertise as specialists with natural medicine, for the benefit of our patients.
In 1992 we founded our joint practice in Aystetten, an idyllic small town on the outskirts of Augsburg, within the "Nature Park of the Western Woods" ("Naturpark Westliche Wälder") in southern Germany close to the Alps. Since then we have specialized in the healing methods of natural medicine such as homoeopathy, Chinese medicine (TCM), acupuncture, and ozone therapy.
Over the past twenty years we have successfully treated patients of all age groups. Many families – from infants to their grandparents – have been under our care. This long experience of looking after patients and their whole families has shaped our concept of "holistic family medicine". Based on this, we gave our practice its present name when we reorganized and moved to new premises in 2010.
In our medical treatment we focus our attention on the patient as a whole and individual person. We take a lot of time to listen to the patient's worries and concerns. We always try to find the best possible solutions for the health problems of you and your family.
Clinic opening hours
Monday to Friday
09.00 – 12.00 hrs
Thursday
15.00 – 18.00 hrs
And special appointments